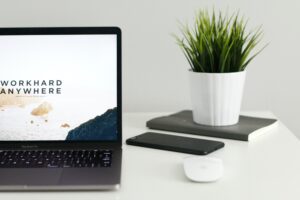 In my opinion – no! (Other opinions are available!)
I think that it is better to get started as soon as you can with your email marketing. And to do that, you do not need a website.
Done is better than perfect, as they say! Whoever "they" are, but I think they have a point with this one.
I didn't take my advice on this and waited to start my email marketing until everything was perfect. And by doing this, I delayed growing my list.
I wanted my website perfect and ready to go before I did anything and I realised that this was a mistake.
I have learnt this was the wrong thing to do and I should have just got started with my email marketing. While you are waiting for either your website to be built or the budget for your website, you can get started without it.
Using your Landing Page
With most email providers you will get a landing page in your package. You can use this landing page as a mini one-page website.
So, you can build your landing page the way that you want it to read and to show off the magical you in the best way possible!
And you can share your offers and more about you and the services that you offer on this page. And also your free or paid Lead Magnet throughout!
Using your emails to share
Once your website is up and running you can then share this with your subscribers. Point them to where they can see the amazing website that you have created and the services that you offer.
One thing I would suggest doing is buying your domain name as soon as possible. This will mean that you can send your emails from your business email address rather than a Gmail address. This will also put you in a better frame of mind when it comes to starting.
What made you delay in starting your Email Marketing? Or did you just crack on like a star? Let me know in the comments.