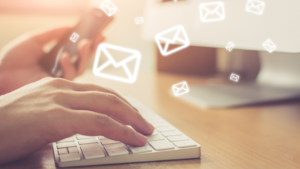 And we are back in Lockdown. Firstly, I hope that you are all doing ok. Not a great time but we've done it before and we will do it again. Just sending you lots of love. 
Secondly, if you haven't set up your Email Marketing, now might be a great time to have a look and start to think about it. The great thing about Email Marketing is that you own your list. Unlike social media which is owned by someone else, it is yours. Don't get me wrong, I love Instagram as much as the next person (stories, reels, IGTV!) but it is great to have a backup. 
My favourite FREE platform is Mailerlite.
It is free up to 1000 subscribers, so if you are just starting out and don't want another expense, you have nothing to lose and everything to gain. 

It is so easy to design your email or landing page. All drag and drop, no coding required.

You can create a landing page and sign everyone up from there. If you haven't got a website, then there is no problem. You could even use your landing page to create a mini one page website with your subscription at the bottom.

You can set automation – if you have a welcome sequence and then you can filter them into your preferred list. Perfect if you have a couple of different lists. 
Do you use Mailerlite? Or do you want a chat about getting started? Pop me a message and we can have a brew and a chat.
Nina x